Mulayam Singh Yadav Death: 'Dhartiputra' Mulayam Singh Yadav has passed away at the age of 82.
Lucknow News: Mulayam Singh Yadav, former chief minister of Uttar Pradesh and patron of the Samajwadi Party, died on Monday at Medanta Hospital in Gurugram. At the age of 82, he breathed his last.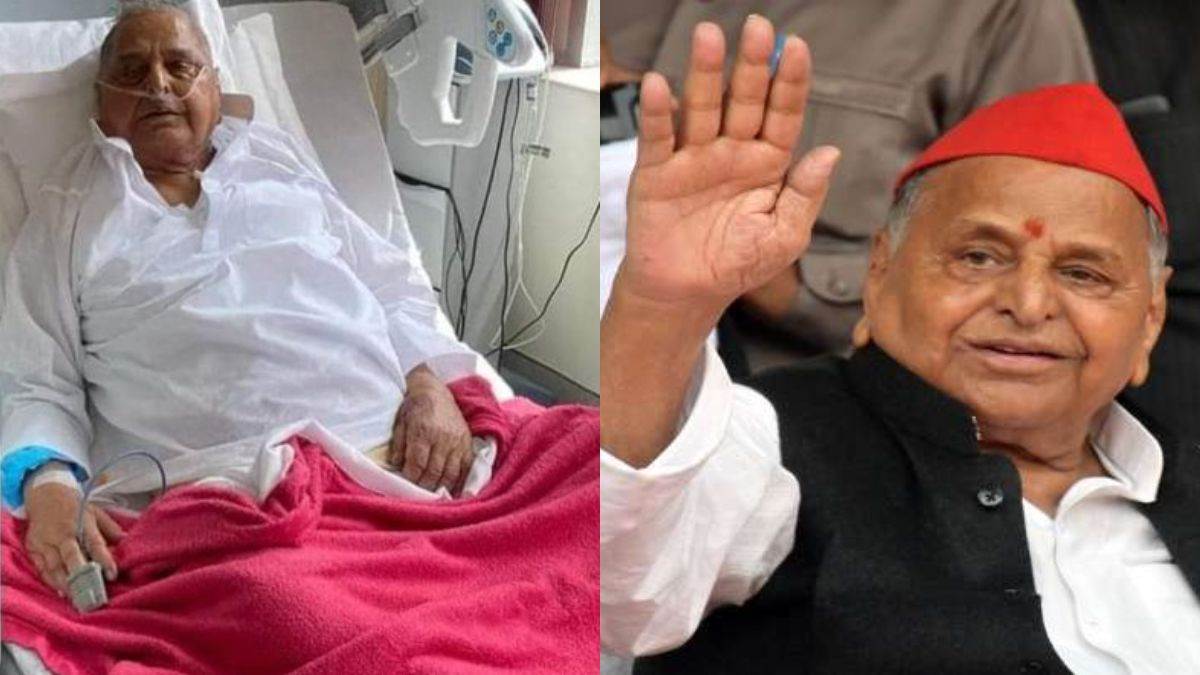 Former Uttar Pradesh Chief Minister and Samajwadi Party patron Mulayam Singh Yadav has passed away. He passed away at 8:16 am today (October 10) at the Medanta Hospital in Gurugram at the age of 82. On 22 August, Mulayam Singh Yadav was admitted to Medanta Hospital after complaining of shortness of breath and low blood pressure. His condition did not improve and he was transferred to the ICU on 1 October. He was being treated by a panel of doctors.
Prime Minister Shri Narendra Modi ji and Home Minister Amith Shah ji paid tribute to Mulayam Singh
Shri Mulayam Singh Yadav Ji was a remarkable personality. He was widely admired as a humble and grounded leader who was sensitive to people's problems. He served people diligently and devoted his life towards popularising the ideals of Loknayak JP and Dr. Lohia. pic.twitter.com/kFtDHP40q9

— Narendra Modi (@narendramodi) October 10, 2022
Mulayam Singh Yadav Ji distinguished himself in UP and national politics. He was a key soldier for democracy during the Emergency. As Defence Minister, he worked for a stronger India. His Parliamentary interventions were insightful and emphasised on furthering national interest. pic.twitter.com/QKGfFfimr8

— Narendra Modi (@narendramodi) October 10, 2022
I had many interactions with Mulayam Singh Yadav Ji when we served as Chief Ministers of our respective states. The close association continued and I always looked forward to hearing his views. His demise pains me. Condolences to his family and lakhs of supporters. Om Shanti. pic.twitter.com/eWbJYoNfzU

— Narendra Modi (@narendramodi) October 10, 2022
मुलायम सिंह यादव जी अपने अद्वितीय राजनीतिक कौशल से दशकों तक राजनीति में सक्रिय रहे। आपातकाल में उन्होंने लोकतंत्र की पुनर्स्थापना के लिए बुलंद आवाज उठाई। वह सदैव एक जमीन से जुड़े जननेता के रूप में याद किए जाएँगे। उनका निधन भारतीय राजनीति के एक युग का अंत है।

— Amit Shah (@AmitShah) October 10, 2022
Lucknow News: Sadhna Gupta, his wife, died in July
Mulayam Singh Yadav's wife Sadhna Gupta died in July this year. Due to a lung infection, he died after being treated at a private hospital in Gurugram. Mulayam Singh Yadav's second wife was Sadhana. Malti Devi, his first wife, passed away in 2003. Akhilesh Yadav's mother is Malti Devi.
Lucknow News: The SP was founded in 1992
A young Mulayam Singh Yadav was born on November 22, 1939. Mulayam Singh was the third of five brothers. Mulayam Singh began his career as a wrestler. His profession was teaching. During his time at Inter College, he taught. He wanted to become a wrestler because his father wanted him to be one. Mulayam Singh Yadav stepped out of the Jaswantnagar assembly seat after being influenced by his political mentor Nathu Singh. From 1982 to 1985, he served on the Legislative Council.
Mulayam Singh Yadav, who was active in the Lohia movement, founded the Samajwadi Party on October 4, 1992. Mulayam Singh Yadav was known as the wrestler of the political arena. Rivals were easily pinned by him. His achievements in the politics of the nation's most populous state, Uttar Pradesh, are the stuff of dreams for any leader. Three times he took over the state's command. In addition, he became the country's Defense Minister. The Uttar Pradesh Legislative Assembly elected him eight times.
Lucknow News: The political career of Mulayam Singh Yadav
Mulayam Singh Yadav became an MLA for the first time in 1967. On 5 December 1989, he became the first Chief Minister of the state. In the assembly seat of Jaswantnagar, Mulayam began his political campaign. As a result, he joined the Socialist Party, Praja Socialist Party. He served in the Legislative Assembly in 1967, 1974, 1977, 1985, and 1989. During 1989, 1993, and 2003, Mulayam Singh served as the CM of UP. As well as being a member of the Lok Sabha, he was a member of the Senate.
After winning the 1996 elections, he became a member of Parliament for the first time. This led to his victory in 1998. His winning streak continued in the 1999 elections as well. During the 2004 Lok Sabha elections, he won Mainpuri. Both Azamgarh and Mainpuri parliamentary seats were won by him in 2014. His winning streak continued in the 2019 elections as well and he once again reached Parliament after winning in Mainpuri.
Chief Minister Yogi Adityanath has declared three days state mourning in Uttar Pradesh.